When we worship dream pop as this ~phenomenon~, it surprises me how hard it gets to find modern acts who capture the 4AD 'sound' beyond some reverb on guitars. Patience in such a thing with the press is a whole other story. Hearing so much about repetitive shoegaze adds to my confusion. Hatchie came close; after all, she was the rare artist to get big through more than whisper-singing. Still, I felt Keepsake stepped too far into it's own formula, with one chipper (and a little on-the-nose?) love anthem to the next.
Rather than falling into either formula, Cranekiss sees Tamaryn carry the torch for 4AD and escape their own limits in the 'ol 'whispers over vacuums' genre. This album takes us back to a time where dream pop didn't entail indie rock plus-reverb; the band has thorough ears for it's history. We get all the bubbling chorus pedals and dulcimer-like strums ("Collection") we could want. In traces, I get some Vini Reilly, Be Forest and White Poppy, but these sounds work as 'pieces to the rainbow' rather than make this a bunch of emulations. (Albeit accurate ones…) They don't overlook the niche's gothic edges; as much as the sound steps closer to Cocteau's late 80s' sheen and both bands excel at it's idyllic 'pop' side, I'm glad they see more to Cocteau N Co. than that one song.
TThe thing that made an album Treasure special was, it didn't shower me in 'plain old' beauty alone. It took me from sunken ships to medieval courts to Christmas within minutes. It wasn't a lazy IRL daydream alone; it bent sensations and time periods so much that it escapes words. This was true surrealism that made tapestries rather than textures; and no matter how vague they seemed, the Twins painted them with the same ornate detail as Vaughan Oliver's artwork. Through the sheer decadence of their sound, Tamaryn achieve a close effect. When I put this on, I have one foot in a fountain made from rainbows (the harmonious, child-like euphoria of "Sugarfix") and another in the vast ocean shimmering to the side. Somehow, rose petals drift by on it's currents. At it's darkest, something sublime persists in Cranekiss as it did with the Twins. Every single sound finds a way to flourish, all the way to the splashing drums that open the whole thing.
Their new electronic slant adds even more color to Guthrie and Co.'s sounds. When their range could rival a synth's, both 'master' and 'student' tell me it's a no-brainer that synths have their place in this genre. Plus, despite using these sounds that Cocteau didn't use much beyond cameos, they manage this arcane accent that blends so well with the 4AD vibe. See: the pattern that opens "Last", recalling the medieval plucks you'd hear on It'll End In Tears and modern synthwave with one sound.
Add some leftover shoegaze from Tamaryn's roots to expand songs rather than crowd them, and Cranekiss unites most major 'sides' of dream pop. Through this, they bring each song a backdrop to get lost in just as their bolder, vastly improving hooks find room to soar like "Stay With Me" did; years before Hatchie too. Take the single "Last". Despite the tenderness in Tamaryn's voice, feedback seems to carry the baggage as it levitates around her modern pop melody, incredibly lonely behind the grit. I'm as high as the skyscrapers before I know it when the album's hugest chorus takes flight, with Tamaryn quivering sweetly through her highest notes ('Hang up before you leave'). It's a thrill to hear such ambitious 'pure pop' from someone who hid so much before. It's cathartic, it marches on; but it does a gorgeous job at capturing the weight of the rejection that lingers. The feedback from earlier adds tension just as it gives me a glance into the distant city.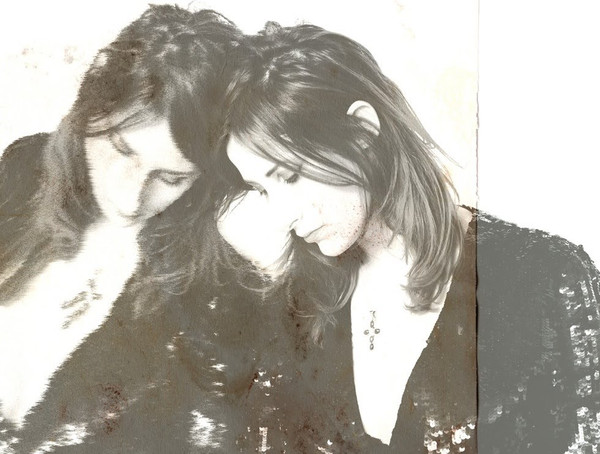 Cranekiss maintains such a balance that it's 'extremes' (like 'shoegaze VS pop' or 'dark VS light') flow together in a sublime gradient. Neon and pastel can streak through dark clouds. The dip we take into moodier 'atmosphere pieces' makes sense thanks to this and like-minded sequencing. Before they can lose their focus, they get their own sonic variety and subtler (though no less alluring) hooks creeping through. For instance, the synth that shatters under jagged guitars and a lurching beat in "Fade Away", making the chorus rumble like a storm. Right after, "Won't Be Found" has Tamaryn's whispering monologue just about melt in fx and guitar wash, until the siren-like chorus kicks in to suck us deeper in the murk. They took longer to grasp me, sure, but if you have a passion for the atmosphere this genre brings, the slow-burn shouldn't take too long.
With all that in mind, it's no wonder Tamaryn explained the title as 'a kiss that takes you over' and 'being craned into the sky by somebody'. With the music smothering us in it's waves, her own voice yanks us along for the ride. Both are just as likely to lure someone to danger as they could to paradise; her lurking presence completes the effect.
I hate to gab so much about Cocteau-isms if I'm honest, since a close listen should set Tamaryn's voice apart. While her timbre is deeper by nature, she adds a taste for subtle and playful darkness not too far from Siouxsie's. If Fraser was the belting 'goddess' from the sky, Tamaryn is a blood-red rose with thorns; honey that trickles slowly as you wonder whether it's poison or not. For all her lurking, she lays it on thick and makes it count, as if her words come in a fancy font. Now that the guitars provide a portrait for her voice rather than shrink it, we hear these nuances better. She can bring a much needed carefree spirit to an upbeat tune like "Hands All Over Me" now, thriving in the bliss around her. It's that icy wind on the surface that draws me in, but I stay for the resonant warmth inside.
In absorbing dream pop's history into her own personality, Tamaryn creates the most decadent yet balanced revival that I know. Whether you prefer one Cocteau era or all; whether you're more about shoegaze, ethereal wave or Hatchie, Cranekiss has something for you. While I can't decide if it's a true update or a delicious modern tribute, it tells me that the 4AD 'sound' belongs in our Bandcamp era and deserves an electronic revision. After five years, when many peers vanished or moved on (Sleep Over, Boy Friend; in a way, Tamaryn herself!), I wish someone new could pick up on that idea.
Well then… did that get a little dense for you? No surprise if so, since I could write you a little essay on the textures here; this was my hardest review in months and months. But, as I'm sure you can tell, I think all dream pop should aspire to that reaction.